Petroleum Source Rock Analysis
JAPEX Research Center is equipped with the facilities and personnel to provide the testing and analysis required in a wide range of fields, from exploration and development to production and transportation, for providing services both in Japan and abroad.
Please refer to Technical Services page about our technical services, including providing research/analysis items and contact.
Summary of Petroleum Source Rock Analysis
Source rocks are the rocks that have the potential to generate oil/natural gas and essential to the formation of oil and natural gas fields. Determining the characteristics of source rocks, therefore, is critical to the precise evaluation for exploration.
The source rock potential is evaluated based on three parameters: organic amount, organic type, and maturity. Specifically, samples including outcrop rocks and well cuttings are analyzed using analytical instruments, such as elemental analyzers, Rock-Eval instruments, and vitrinite reflectance microscopes. The resulting data are used for basin modeling, migration and accumulation analysis, as well as the determination of exploration well locations.
Survey/Analysis Items
Source rock analysis evaluates primarily the organic amount, organic type, and maturity of samples.
Analysis of organic carbon content


Combust source rock samples to assess the amount of organic carbon

Rock-Eval pyrolysis


Heat source rock samples to evaluate the organic amount, type and maturity

Measurement of vitrinite reflectance


Measure the reflectivity of vitrinite to evaluate organic maturity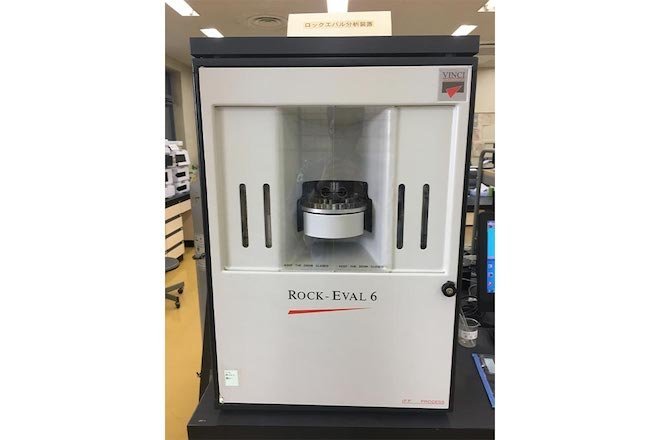 Rock-Eval pyrolysis device
Our website uses cookies to improve the convenience of our visitors when browsing our site. If you agree with our policy on the use of cookies, please click the "Agree" button. If you do not agree to the use of cookies when browsing our website, please disable the cookie setting in your browser.