Advanced Production Engineering (PE) Technology
In recent years, aiming for efficient oil and gas recovery, the demand for Production Engineering (PE), a technology area which covers technologies from well to production, has increased as a means to pursue improved production from each well.
In particular, the application of IOR and EOR (enhanced oil recovery) to the secondary/tertiary recovery of domestic oil and gas fields and the development of unconventional resources such as shale oil (tight oil) and methane hydrate require specialized technologies that share concepts and ideas with multiple disciplines.
JAPEX is currently applying the following PEs mainly to the development and production of domestic oil and gas fields.
Artificial lift: producing of crude oil using pumps and other machinery
Well stimulation: acidizing and fracturing
Sand control: application of gravel packs, etc.
Related
Application of Gravel Packs
When producing oil or natural gas from a sandstone formation, sand in the formation may flow into the well with the fluid as production proceeds, causing "sand production failure" that reduces production.
One of the measures to prevent sand production is to apply the gravel pack method. As shown in the following figure, this technology prevents sand from entering the well by spreading artificially sized sand (gravels) in the well in the order of [1] to [4].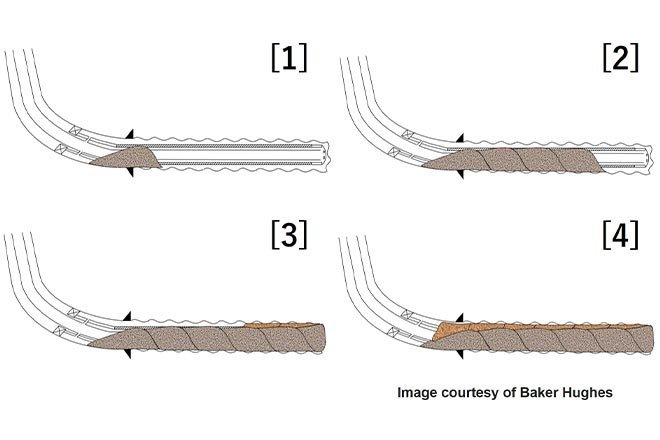 Gravel pack in a high inclined, open-hole finishing well
Application of Gravel Packs in the Iwafune-oki Oil and Gas Field
In 2018, the Iwafune-oki oil and gas field in Niigata Prefecture became the first oil field in Japan to apply Openhole gravel packing to the well with high inclination and no casing inserted in the production interval.
In the Iwafune-oki oil and gas field, where our subsidiary JAPEX Offshore, Ltd. (JPO) is promoting production operations, we have developed an additional 1,900m layer from 2018 to 2019 in order to maintain and increase crude oil production. We drilled a highly deviated well in the Iwafune-oki platform, located 4 km offshore from the mouth of the Tainai River in Niigata Prefecture, and applied Openhole gravel packing to prevent sand from flowing into the well. The successful application of this difficult technology has resulted in a higher-than-expected oil production.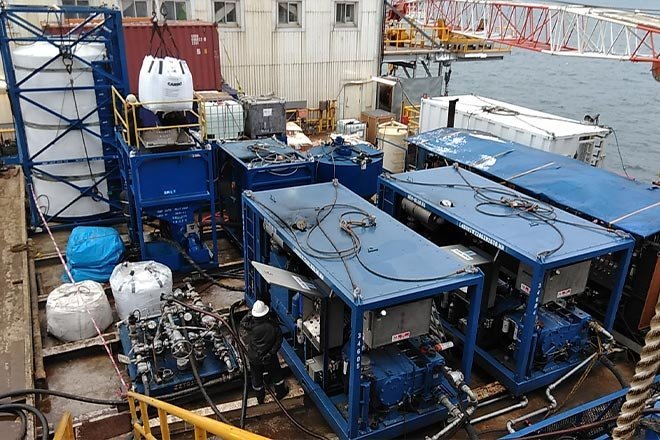 Gravel pack application work at the Iwafune-oki platform
Related
Our website uses cookies to improve the convenience of our visitors when browsing our site. If you agree with our policy on the use of cookies, please click the "Agree" button. If you do not agree to the use of cookies when browsing our website, please disable the cookie setting in your browser.