Domestic Gas Pipeline Network
JAPEX has built a network of high-pressure gas pipelines, extending a total of 800 kilometers or longer and central to our domestic gas supply network. The network connects our domestic oil and gas fields and LNG terminals to supply natural gas to clients along the pipelines.
Related
JAPEX's Gas Pipelines
JAPEX has distributed natural gas produced in Japan and LNG vaporized gas from Hokkaido and Akita Prefectures, and through the Niigata-Sendai Gas Pipeline.
Niigata-Sendai Gas Pipeline Network
The Niigata-Sendai Gas Pipeline Network is our main gas pipeline network in Japan, which mainly consists of the Niigata-Sendai Gas Pipeline connecting gas supplies from Niigata Prefecture to Sendai City, Miyagi Prefecture. This network, including its connected pipelines, supplies natural gas to Niigata and south Tohoku regions.
We supply gas into pipelines from the oil and gas fields on the Sea of Japan side and also from the LNG terminals on the Pacific Ocean side. It makes our gas supply flexible to fluctuations in demand and ensures continuity in case of trouble in either of the two supply sides.
Niigata-Sendai Gas Pipeline: Niigata City, Niigata Prefecture to Sendai City, Miyagi Prefecture (approximately 260km)
Shiroishi-Koriyama Gas Pipeline: Shiroishi City, Miyagi Prefecture to Koriyama City, Fukushima Prefecture (approximately 96km)
Soma-Iwanuma Gas Pipeline: Shinchi Town, Soma County, Fukushima Prefecture to Iwanuma City, Miyagi Prefecture (approximately 39km)
Yamagata Natural Gas Pipeline: Shichikashuku Town, Katta County, Miyagi Prefecture to Yamagata City, Yamagata Prefecture (approximately 30km, owned by TOHOKU NATURAL GAS Co., Inc.)
Gas Pipelines within Niigata Prefecture: Ojiya City/Kashiwazaki City to Tainai City, Niigata Prefecture (approximately 280km)

Niigata-Sendai Gas Pipeline Network
Related
Other Our Domestic Pipelines
Hokkaido: Tomakomai City to Kitahiroshima City (approximately 94km)
Akita: Yurihonjo City to Akita City (approximately 50 kilometers), Oga City (approximately 11km)

Owned by Akita Natural Gas Pipeline Co., Ltd.
Related
Safe and Stable Operation of Pipelines
Many of our gas pipelines are buried underground. We have taken various measures as to their structure and design, as well as their operation and maintenance, to ensure safe and stable natural gas supply.
Structure and Design of Gas Pipelines
The structure and design of our gas pipelines are highly resistant to shock. With the measures taken to afford protection against natural corrosion, our gas pipelines have realized semi-permanent useful life.
High Resistance to Shock
Achieved by high-tensile steel pipes which are highly flexible and resilient to internal and external pressure, bending, and shock
Obtained by designing pipelines to withstand major earthquakes

Our pipelines demonstrated outstanding seismic resistance at the Miyagi Offshore Earthquake, the Mid-Niigata Earthquake, and the Great East Japan Earthquake
Protection against Corrosion
Ensured by applying anti-corrosion coating on the surface before the pipes are buried underground
Enabled by using the impressed current cathodic protection method

In this method, insoluble anodes that corrode in place of pipelines are embedded underground, and current for anti-corrosion is applied from an external DC power source connected to the pipelines
The method is built on an anti-corrosion technology that is highly reliable, easy to maintain/manage, and suitable for large and long-distance pipelines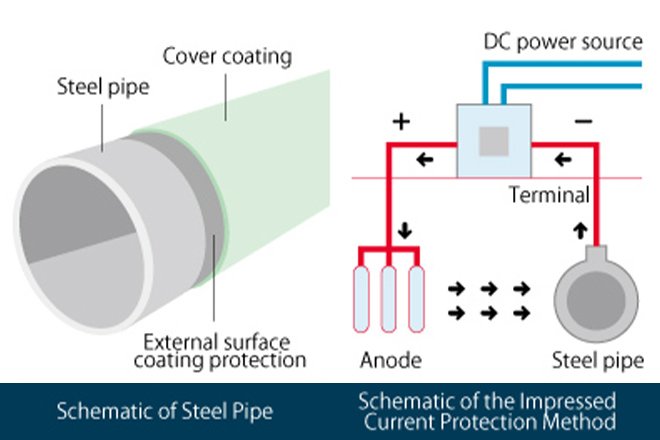 Management and Maintenance of Pipelines
To ensure safe and stable distribution of gas, JAPEX has put in place a centralized remote monitoring system, as well as on-site visual inspection.
Monitoring Center and Supply Plant
Equipped with Supervisory Control and Data Acquisition (SCADA), a centralized remote monitoring system to monitor the status of our pipelines around the clock
Capable of remotely shutting down the gas supply for emergencies
Main Valve Station Facilities
Installed with the Emergency Shutdown Valves (ESDV), which can remotely shut down gas supply when something is wrong
Installed with stripping towers, which releases gas from the pipelines into the air as needed, at major points along our gas pipelines
Maintenance and Checkup
Performed by our staff who periodically patrol and inspect the pipelines for checkup
Facilitated with security signs and posts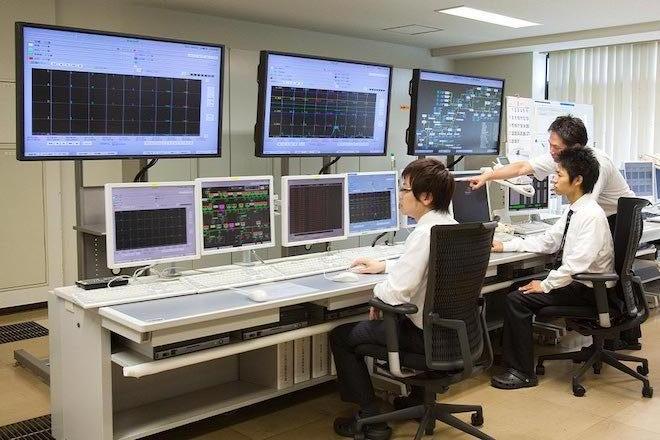 Nagaoka Gas Transmission Monitoring Center
Our website uses cookies to improve the convenience of our visitors when browsing our site. If you agree with our policy on the use of cookies, please click the "Agree" button. If you do not agree to the use of cookies when browsing our website, please disable the cookie setting in your browser.