JAPEX Research Center is equipped with the facilities and personnel to provide the testing and analysis required in a wide range of fields, from exploration and development to production and transportation, for providing services both in Japan and abroad.
Please refer to Technical Services page about our technical services, including providing research/analysis items and contact.
Summary of Water Analysis
In the process of developing oil and natural gas, some amount of water is co-produced from petroleum wells. Although co-produced water has no commercial value, its analyses provide a variety of information essential to exploration, development, and production.
In addition to water co-produced from wells, JAPEX Research Center analyzes diverse types of waters, including spring water collected during geological field surveys, geothermal water, plant wastewater used at mines, and river water collected for environmental surveys, so as to evaluate reservoirs and help address operational troubles.
Survey/Analysis Items
Water analysis consists mainly of the qualitative and quantitative analyses of water constituents.
General water analyses (ion chromatograph, ICP-OES, TOC)

Includes the qualitative and quantitative analyses of dissolved ions, trace elements, organic acids; and their isotopic ratios.

Analysis of isotopic composition of oxygen/hydrogen (IRMS, cavity ring-down spectroscopy)


Measures the ionization and light absorbance potential of water

Analysis of organic acids


Collects and analyzes acid-treated flowback fluids over time

Evaluation of scale precipitation


Evaluates the precipitation/solubility of minerals (scale) from water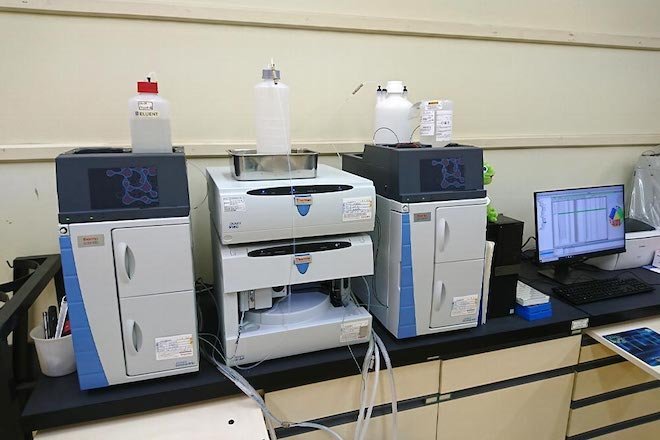 Ion chromatography
Our website uses cookies to improve the convenience of our visitors when browsing our site. If you agree with our policy on the use of cookies, please click the "Agree" button. If you do not agree to the use of cookies when browsing our website, please disable the cookie setting in your browser.