Extended Reach Drilling (ERD)
Extended Reach Drilling (ERD) is a technology for drilling longer horizontal wells at a high inclination angle to reach underground oil/natural gas deposits further away from the drilling spot, instead of drilling wells vertically.
In exploration and development of oil and natural gas, we drill wells to reach subsurface deposits where oil/natural gas is likely trapped. However, in the event we are unable to drill wells from directly above these deposits, since mountains, rivers, or town areas overlie them, we drill wells from surface locations at a short distance away, using the directional drilling technology. ERD is an advanced version of the directional drilling technology. More specifically, drilling at a high inclination angle allows for drilling horizontal wells even longer distances.
In recent years, the ERD technology has been increasingly adopted in E&P projects. For instance, using the technology, we are able to locate and produce oil or natural gas from deposits below the seabed by diagonally drilling horizontal wells from the land, rather than constructing offshore platforms directly above these deposits and drilling vertical wells to reach oil/natural gas.
ERD Initiatives in Japan
The ERD technology has been applied in drilling of wells in Japan as well. In fact, JAPEX has accumulated experience and track record in drilling horizontally and vertically extended wells.
In 2014, JAPEX drilled a horizontal well with a total depth of 4,600m and a horizontal length of 500m at Yufutsu oil and gas field in Tomakomai City, Hokkaido.
Moreover, as part of the CCS (Carbon dioxide Capture and Storage) demonstration project offshore Tomakomai in Hokkaido, a government project Japan CCS Co., Ltd. (JCCS) has worked on and JAPEX invested in, the JAPEX Group undertook and completed the drilling of CO2 injection wells for feasibility study. The ERD technology was used also for drilling these injection wells
Drilling of CO2 Injection Wells for CCS Feasibility Study in Tomakomai
In 2015, JAPEX completed the drilling of an extended reach well with a deviation or horizontal reach of 4,346m, a total drilling length of 5,800m, and a vertical depth of 2,753m. The well is the longest extended reach well in Japan, with its deviation equivalent to 7 times the height of the Tokyo Skytree.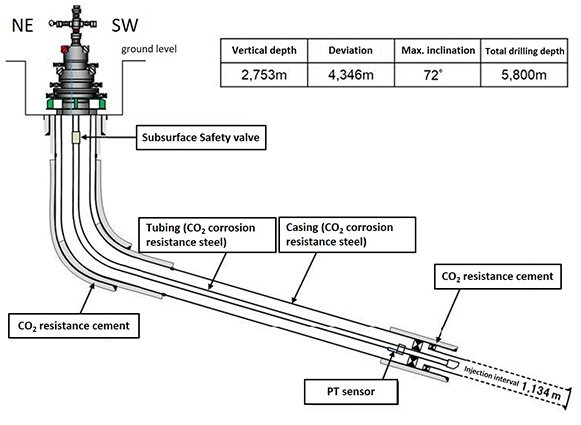 Illustrative image of a drilled injection well (Source: *1)
Source
*1: Report on large-scale CCS Demonstration Project in Tomakomai City, injecting a total of 300,000 tons of carbon dioxide (CO2) underground (the "Comprehensive Report") as of May 2020, issued by the Ministry of Economy, Trade and Industry (METI), New Energy and Industrial Technology Development Organization (NEDO), and Japan CCS Co., Ltd. (reprint permission obtained)
Related
Our website uses cookies to improve the convenience of our visitors when browsing our site. If you agree with our policy on the use of cookies, please click the "Agree" button. If you do not agree to the use of cookies when browsing our website, please disable the cookie setting in your browser.