JAPEX Research Center is equipped with the facilities and personnel to provide the testing and analysis required in a wide range of fields, from exploration and development to production and transportation, for providing services both in Japan and abroad.
Please refer to Technical Services page about our technical services, including providing research/analysis items and contact.
Summary of Petrological Analysis
The analysis of mineralogical and chemical compositions and pore characteristics of reservoir rocks is essential to uncovering the quality of reservoirs which controls the potential of reservoir rocks to bear resources, such as crude oil and geothermal heat.
In fact, application of a wide variety of petrological analytical techniques is required to determine the quality of reservoirs. JAPEX Research Center has made the maximum use of petrological techniques to unravel the characteristics of reservoir rocks, while pushing forward with the application of these techniques in petroleum and geothermal exploration and development.
Survey/Analysis Items
We have measured the physical and chemical properties of reservoir rocks from various perspectives.
Preparation of blue resin-impregnated thin sections

Prepares blue resin-impregnated thin sections to evaluate pores, etc.

Examination of thin sections

Determines lithologies/lithofacies, the progression of diagenesis and the development of porosity

X-ray powder diffraction

Analyzes mineral composition and crystal structures

X-ray fluorescence spectroscopy (XRF)

Determines the constituents of a mineral and the composition ratio of each of such constituents

Scanning electron microscopy (SEM)

Determines the shape of a sample's surface

Energy-dispersive x-ray spectroscopy with SEM

Determines pores and chemical composition of a sample

Fluid inclusion microthermometry (measurement of homogenization and ice melting temperatures, fluorescence observation)

Estimates the homogenization/ice melting behavior of fluid inclusions (i.e., liquid and gas trapped inside a mineral) when they are heated/cooled, and the salinity of the liquid portion.

Cathode luminescence microscopy

Detects and analyzes the light released when a sample is irradiated.

Analysis of carbon and oxygen isotopic composition of carbonate rocks

Analyzes the isotopic composition of CO2 and oxygen produced thorough reactions between powder carbonate samples and phosphoric acid

Grain size distribution analysis (sieving and thin section methods)

Pour samples over a stack of sieves and vibrates them with a vibrator to estimate the weight distribution of samples across the sieves

Thermal conductivity measurement

Measures and estimates the thermal conductivity in each of multiple samples

Magnetic susceptibility measurement

Measures and estimates the magnetic susceptibility in each of multiple samples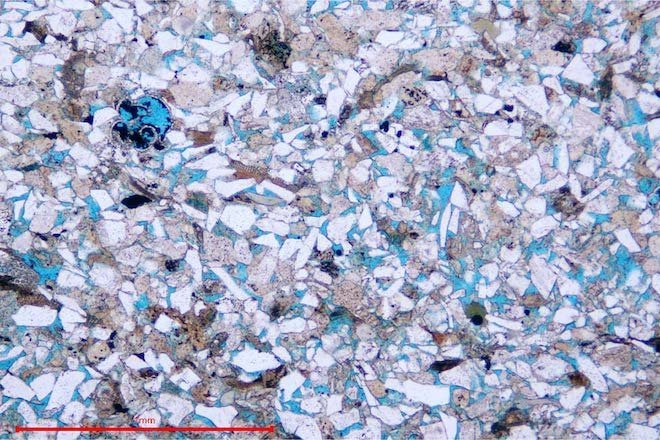 Blue resin-impregnated thin section
Our website uses cookies to improve the convenience of our visitors when browsing our site. If you agree with our policy on the use of cookies, please click the "Agree" button. If you do not agree to the use of cookies when browsing our website, please disable the cookie setting in your browser.