Domestic Gas Supply Network
JAPEX has built the domestic gas supply network to supply natural gas and LNG mainly to local gas distributors and large-scale clients.
To respond to varying demands and needs for natural gas and LNG, which are considered to have the least environmental impact of fossil fuels, we have a system to supply natural gas produced at our domestic gas fields and LNG procured from abroad to our clients using a combination of multiple transportation methods.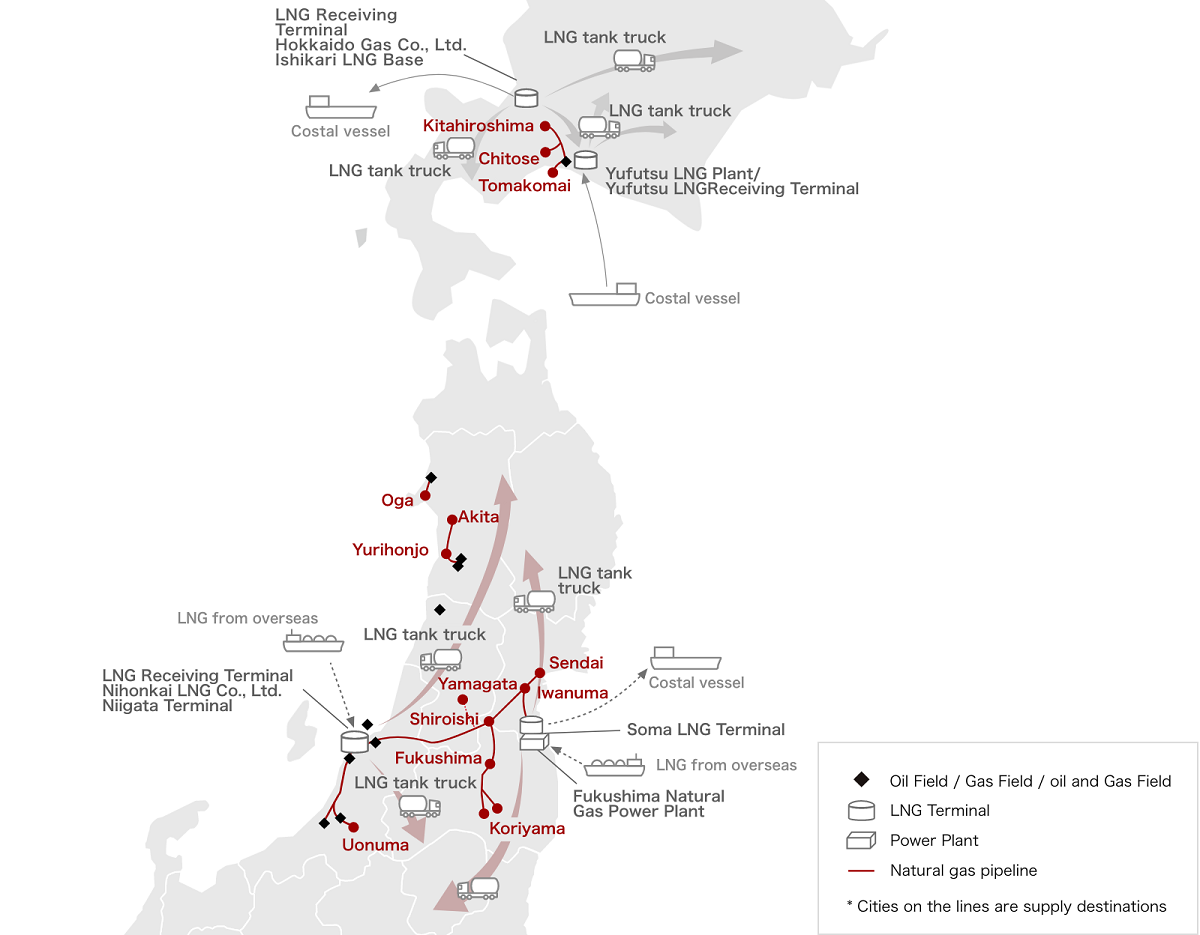 JAPEX's Domestic Gas Supply Network
Roles and Component Elements of the Network
Supply to Clients
JAPEX transports and supplies gas or LNG in its original liquefied form to our clients in optimal methods to their specific needs.
High-pressure gas pipelines: Equipped to supply gas to our clients by mixing natural gas produced in Japan and LNG vaporized gas


Highly stable supply to clients is ensured by sending gas into the Niigata-Sendai Gas Pipeline from both the Sea of Japan side and the Pacific Ocean side

LNG Satellite System: Enables to transport LNG in its original liquefied form to clients by tank trucks and tank containers on railway


An LNG tank container on railway is a break-through LNG transportation solution developed by JAPEX for the first time in Japan, and has been gaining high interest from abroad
Related
Transportation between LNG Terminals
To ensure stable supply to domestic clients in need of natural gas, JAPEX procures LNG in overseas markets and receives LNG transported by ocean-going LNG carriers at our LNG terminals in Japan.
At LNG receiving terminals inaccessible for ocean-going LNG carriers, coastal vessels are used instead to respond to the demands from our supply area.
Related
For Inquires about JAPEX' Domestic Gas Supply
For inquiries about our domestic gas supply, please contact us at:
Contact about JAPEX's Domestic Gas Supply
Marketing & Sales Planning Dept., Marketing & Sales Division,
Japan Petroleum Exploration Co., Ltd.
Tel: +81-3-6268-7124 (Direct to the Dept.)
*on weekdays from 9:00 to 17:30, except for the new year's holidays and our foundation anniversary day of the 1st Monday of December
LNG Procurement
LNG for our business is procured by the Tokyo Head Office and the Singapore Representative Office in cooperation with each other.
Our LNG procurement secures the competitiveness by flexibly combining long-term and spot transactions depending on market conditions, in line with the procurement volume and timing of our business plan.
Our website uses cookies to improve the convenience of our visitors when browsing our site. If you agree with our policy on the use of cookies, please click the "Agree" button. If you do not agree to the use of cookies when browsing our website, please disable the cookie setting in your browser.