CCS (Carbon dioxide Capture and Storage)
Carbon dioxide Capture and Storage (CCS), the technology for capturing carbon dioxide (CO2) to inject it deep underground for long-term storage, is expected to reduce substantial greenhouse gas emissions.
JAPEX aims at early practical application and commercialization of the CCS technology using the technologies and know-how we have cultivated by oil and gas E&P (exploration, development and production).
Related
About CCS
CCS is a technology to capture CO2 emitted from plants, power plants and other facilities before it is emitted into the atmosphere, and inject it deep underground for long-term storage.
Practical use of this technology requires surveys for geological formations suitable for injecting CO2, drilling of injection wells, and establishment of technologies and know-how for long-term stable storage.
Background to the Need for CCS
Efforts to reduce greenhouse gas (CO2) emissions are required to prevent global warming. In particular, Japan is rapidly moving toward achieving the following two CO2 reduction targets.
Paris Agreement
The Paris Agreement is an international climate change framework for years beyond 2020 adopted at COP 21 (the 21st Conference of the Parties to the United Nations Framework Convention on Climate Change) in November 2015.
Japan signed the agreement in April 2016, setting a target of reducing greenhouse gas emissions by 26% by 2030 and 80% by 2050 compared to FY2013 levels.
Net Zero Emissions by 2050
In October 2020, the Japanese government, led by Prime Minister Yoshihide Suga, announced a policy to reduce greenhouse gas emissions to net-zero, or to achieve carbon neutrality, by 2050.
This policy has further stimulated the public and private sectors to work together to go carbon neutral.
Initiatives toward Practical Use of CCS
CCS is considered one of the most practical, reliable, and safe methods to go carbon neutral.
In Japan, CCS has been discussed as one of the future issues in the basic energy plan since the 2000s. Since the 2010s, it has been incorporated into the government's CCS demonstration project, where verification and technology development for practical use have been promoted.
Large-scale CO2 Injection Verification Test at Tomakomai Conducted by JCCS
This test is conducted as part of the government's demonstration project to validate a large-scale injection of CO2 under the seafloor off the coast of Tomakomai City, Hokkaido. Japan CCS Co., Ltd. (JCCS), a project company funded by private companies including JAPEX, has been commissioned by the government to perform this test.
FY2012 to FY2015: Preparation period

Designed and constructed facilities required for the verification test.
Drilled a well required for CO2 injection and observation.
Installed facilities for monitoring the surrounding environment.
Conducted a preliminary survey of seawater and marine organisms based on the Marine Pollution Control Act.

April 2016 to November 2019: CO2 injection

On November 22, 2019, completed the target amount of 300,000 tons of CO2 injection in total.

From April 2016: Monitoring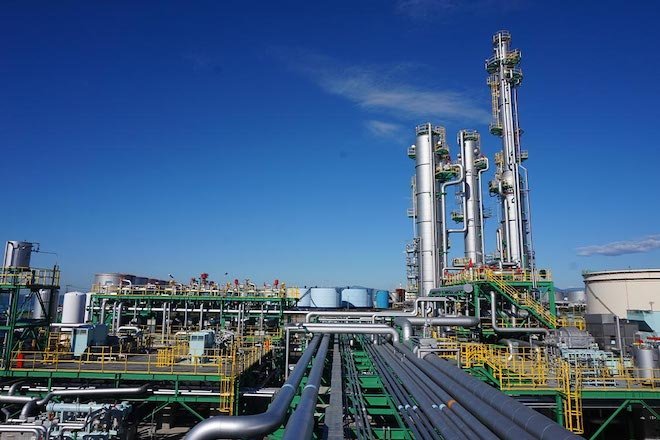 CCS Demonstration Project ground facilities at Tomakomai
(photo courtesy of Japan CCS Co., Ltd.)
JAPEX has been participating in the government's verification test as the largest shareholder of JCCS. We also provided the technologies and know-how that we have cultivated through our oil and natural gas E&P operations, such as those for understanding the subsurface structure, estimating rock properties, drilling injection wells, and monitoring the subsurface through production and fluid movement simulations and elastic wave exploration.
Related Website
Our website uses cookies to improve the convenience of our visitors when browsing our site. If you agree with our policy on the use of cookies, please click the "Agree" button. If you do not agree to the use of cookies when browsing our website, please disable the cookie setting in your browser.