Business Development in Related Fields
In order to contribute to the realization of a carbon-neutral society, JAPEX has been striving to create environmentally friendly businesses in the vicinity of its existing business fields.
We also provide marketing support for the JAPEX Group companies' solutions that contribute to reducing environmental impact.
Response with New Demands for LNG
With the tightening of global regulations on greenhouse gas (GHG) and sulfur emissions, the demand for fuel conversion to liquefied natural gas (LNG) has been attracting attention. Utilizing our experience and expertise in LNG supply, JAPEX is working to expand demand for LNG and build new business models in Japan and overseas.
Related
LNG

bunkering
LNG bunkering is the way to supply LNG directly as fuel to LNG-fueled vessels.
The International Maritime Organization (IMO) will tighten regulations on sulfur emissions from ships' use of fuel in general seas from January 2020 onward, and has also adopted a greenhouse gas (GHG) reduction strategy that comprehensively defines targets for reducing GHG emissions from international shipping and measures to achieve them. Against this backdrop, the introduction of LNG-fueled ships, using LNG for fuel as the least environmentally harmful of all fossil fuels, and the development of LNG bunkering facilities to supply fuel to LNG-fueled ships are rapidly accelerating in Japan and overseas.
There are several ways to implement LNG bunkering, depending on the combination of facilities on the supply side and the receiving side.
In the winter of 2011-2012, JAPEX conducted Ship-to-Ship (STS) operations in the Tomakomai port area of Hokkaido to transfer LNG from ocean-going LNG carriers to domestic LNG carriers in order to meet gas supply and demand in Hokkaido.
Taking advantage of these achievements and our competitive LNG sources and supply infrastructure in Japan, we will continue to promote LNG bunkering both in Japan and overseas to help reduce environmental impact.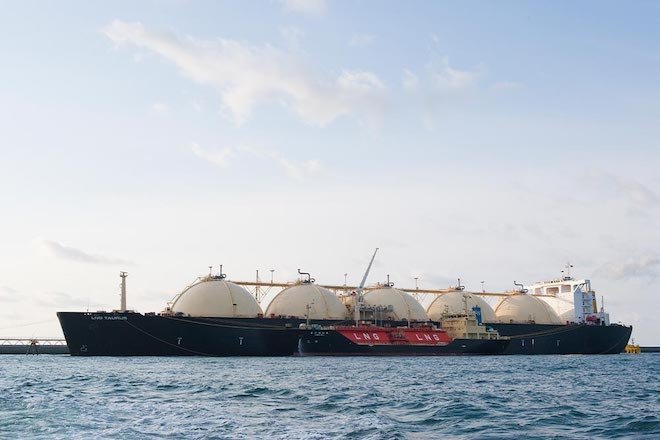 Tomakomai Ship-to-Ship Operation in 2011 to 2012
Marketing Support to Group Companies
A High-Performance Oil Adsorbent "ABURA KURAUDO"
"ABURA KURAUDO" is a high-performance oil adsorbent made of ultra-fine polypropylene fibers which is developed to prevent oil leaks in oceans and rivers. It has high water repellency and ability to absorb 30 to 60 times its own weight in oil and its name comes from the fact that it can absorb a large amount of oil while floating on water for a long time like a cloud.
This product was already developed by a venture company OLX LTD, based in Koriyama, Fukushima Prefecture, and North Japan Oil Co., Ltd., a JAPEX Group company, has been handling its marketing and sales.
For inquiries and order to "ABURA KURAUDO," please contact to info@kitanihonoil.co.jp.
Introduction of "ABURA KURAUDO"
Related
Our website uses cookies to improve the convenience of our visitors when browsing our site. If you agree with our policy on the use of cookies, please click the "Agree" button. If you do not agree to the use of cookies when browsing our website, please disable the cookie setting in your browser.