LNG satellite system is designed to ship LNG in liquid form to clients in need of natural gas in the areas not installed with gas pipelines.
JAPEX transports LNG to clients in broad geographical areas by the LNG satellite system, using tank trucks and LNG tank containers on railway.
LNG shipping facility for tank trucks at Soma LNG Terminal
Related
LNG Tank Containers on Rail
JAPEX developed a break-through solution to "transport LNG in tank containers on railway," having implemented the solution for commercial purposes on our domestic natural gas supply network since 2001.
This solution uses LNG tank containers handled as railway cargos. These containers are shipped from an LNG receiving terminal to freight train stations by dedicated tank trucks and then to destinations by railway as cargos. LNG tank containers that have arrived at a destination freight train station are eventually shipped to clients by dedicated tank trucks.
LNG tank containers on rail has the advantages such as suitability for long-distance transportation and less CO2 emissions during transportation.
Currently, JAPEX transports LNG by railway tank containers between Sapporo and Kushiro in Hokkaido.
Related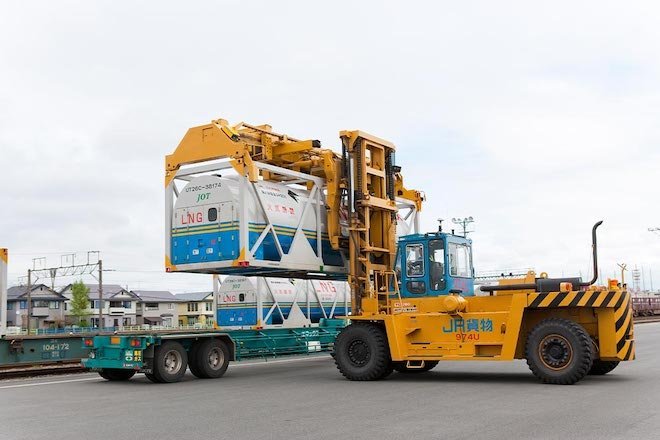 Loading of LNG tank containers at a freight train station
Consultancy Services on LNG Tank Containers on Rail
JAPEX has offered consulting services on transportation of LNG tank containers on rail both in Japan and abroad, leveraging its accumulated expertise, to those who are interested in the solution.
For inquiry about the "LNG tank containers on rail," please contact us at:
Contact about our LNG tank containers on rail
Mail: lng.on.rail@japex.co.jp
Our website uses cookies to improve the convenience of our visitors when browsing our site. If you agree with our policy on the use of cookies, please click the "Agree" button. If you do not agree to the use of cookies when browsing our website, please disable the cookie setting in your browser.